GE Security, Alarma Cable/Radio Network X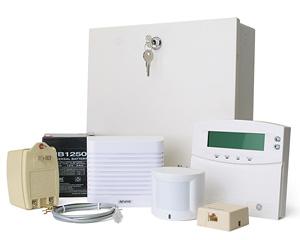 The Network NX is a complete security system that uses advanced technology for burglary, fire and environmental detection. The NX is a flexible system that is both easy to install and simple to use. With up to eight partitions and up to 192 zones, the NX can handle large or small residential and commercial security needs.
The NX panel comes as standard with 4/6/8 hardwire zone inputs. Four programmable outputs can be set up to activate external devices during an alarm activation or other system event. The modular design allows for complete integration of multiple systems within one enclosure. Adding more zones or expanding capability is fast and easy. Standard Features: Flash memory microprocessor - Expanded event log - Early open / late close reporting - Expandable to 48 fully programmable hardwire and / or wireless zones - Maximum of 48 keypads with up to 8 per partition - 8 true partitions with separate account codes, entry / exit delays, and feature selections for each partition - Wireless technology with up to 192 supervised zones - Supports up to 199 users - Hardwire expansion up to 192 zones - Supports SIA and contact ID communication formats - 512-event history log that provides date, time, event and user number.


Ref. GE NETWORK SYSTEM